The Communauté du savoir (CdS), or Knowledge Community in English, is a network designed to strengthen, promote and stimulate Franco-Swiss collaboration in higher education, research and innovation within the Jura Arc.


The community currently covers Franche-Comté on the French side and the cantons of Bern, Jura, Neuchâtel and Vaud in Switzerland. Through its existence and development, the CdS encourages cross-border cooperation by pooling the scientific, academic, cultural and economic potential of the entire Franco-Swiss Jura Arc.

The CdS is made up of leading academic bodies proactively involved in the network and its activities. The latter are based around five key actions: 
Implement concerted and sustainable cross-border governance in higher education, research and innovation within the Jura Arc 
Champion dialogue between researchers and foster new projects
Stimulate student and teacher dialogue and develop new forms of collaboration and training for higher education bodies
Foster creativity and a spirit of innovation
Establish and promote the Jura Arc to encourage access to regional expertise in the areas of higher education, research and innovation
The Conférence TransJurassienne (CTJ), a cross-border political organisation in the Jura Arc, initiated the process which resulted in support from the France-Switzerland Interreg IV programme for the years 2013-2015. The project is led on the Swiss side by arcjurassien.ch and on the French side by the University of Franche-Comté. The project will continue until 2018, through funding secured under France-Switzerland Interreg V.



The CdS is a cooperation framework for:

> Guaranteeing the sustainability of existing Franco-Swiss collaboration initiatives,

> Moving from one-off projects to clusters of projects that are globally consistent and coherent

> Enabling the emergence of new projects

> Championing regional excellence.


Partner universities and colleges of higher education :  
> National Engineering Institute of Mechanics and Microtechnology (ENSMM)

> Arc Engineering High School (HE-Arc)

> Vaud School of Management and Engineering (HEIG-VD),

> Pedagogic High-School - BEJUNE (HEP-BEJUNE)

> University of Franche-Comté (UFC)

> University of Neuchâtel (UniNE)

> University of Technology in Belfort-Montbéliard (UTBM)

The partnership is likely to be expanded once the foundations of the CdS have been laid and its processes established. Merger initiatives in the regions and closer relationships between higher education institutes currently taking place on the French side will also be taken into account, for example the establishment of the University of Bourgogne Franche-Comté.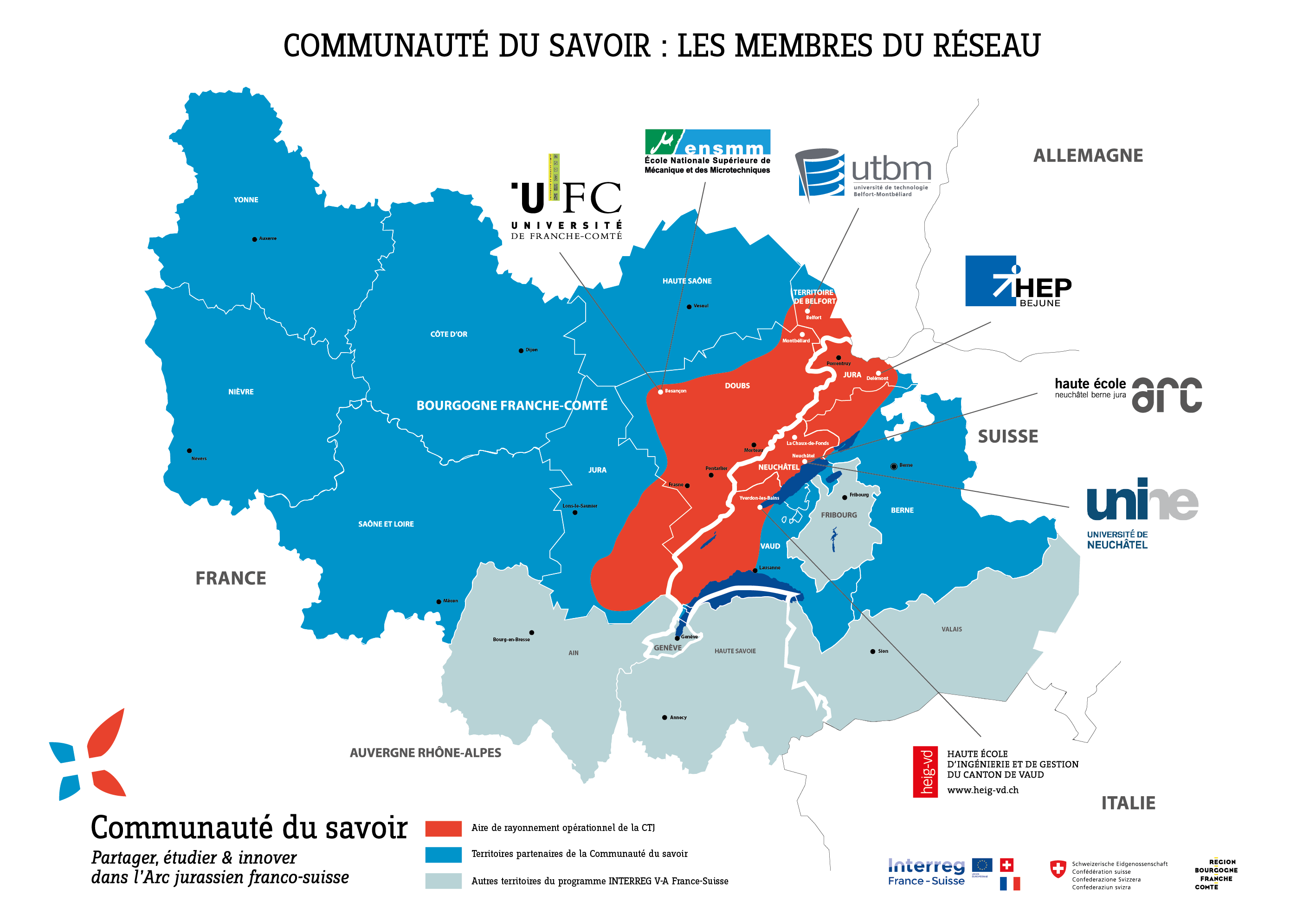 ---